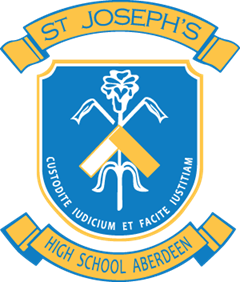 School Crest
The shield contains a gold handled carpenters square with a white blade, representing St Joseph, together with the white lily, a traditional symbol of Mary, all on a blue background.
School Motto
The Latin motto of the school is taken from Chapter 56 of the book of the prophet Isaiah in the
Old Testament: "Custodite Iudicium Et Facite Iustitiam."
It can be translated into English in two ways: "Make fair judgement your concern, act with justice" or "Have a care for justice, act with integrity."
The Colours
GOLD AND WHITE traditionally represents innocence, purity and holiness of life.
BLUE traditionally represents heavenly love, and the unveiling of truth. It is the colour usually used to represent the Blessed Virgin Mary.
Our Patron Saint
The school is named in honour of St Joseph, the husband of Mary, and foster father of Jesus.
We know from the Gospels that St Joseph was a just and caring man. He worked as a carpenter and was descended from King David.